Today, Cuban who helped defeat yellow fever. The University of Houston's Hispanic Studies Department presents this series about the machines that make our civilization run, and the people whose ingenuity created them.
Virtually every American knows the name Walter Reed, if for no other reason, we hear his name every time an American president enters the National Medical Center that bears his name. Reed is credited with helping to eliminate yellow fever, a disease that has repeatedly reshaped the course of history. 
A 1793 epidemic in Philadelphia killed about 4,000 people in a population of just 50,000. That encouraged Congress to move the new nation's capital to Washington, D.C. It was not until the disease was controlled, that the Panama Canal could become a reality. That's because yellow fever caused so many deaths. 
During a failed French attempt to build a canal during the 1880s, some 30,000 workers died of yellow fever. It is likely that yellow fever arrived in the New World from Africa along with the slave trade. Leading researchers and the general public blamed immigrants, urban filth, noxious air, decadence, and sin for contaminating yellow fever patients. When in 1878 20,000 people across the South died, in cities like Galveston and New Orleans, commerce stopped and wealthier citizens fled into the countryside. 
The disease also played a crucial role in the fight for Cuban liberation from Spain. As John Lawrence Tone reminds us, the commander of the Liberation army, Máximo Gómez joked "that his best generals were June, July, and August" (7). Insects and disease were more efficient in attacking the Spanish army than were man-made weapons. 
Although in the United States few have heard of him, it was the Cuban Carlos Finlay who laid the foundation for Reed's success for managing this terrifying disease. On the 18th of February, 1881, at the Fifth International Sanitary Conference held in Washington, D.C., Finlay was the first to argue that a particular species of mosquito transmitted yellow fever and that the disease could be deterred by controlling the mosquito population.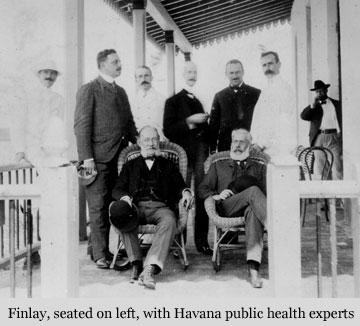 Years earlier, the Venezuelan Luis Daniel Beauperthuy had already put forth the theory. But he did it without the scientific backing provided by Finlay, who went as far as to identify the specific breed of the disease-carrying mosquito. Yet nobody in this age of bacteriology listened to Finlay. And yet his independent discoveries predated the findings of Reed's U.S. Yellow Fever Commission by nineteen years. 
Why were Finlay's theories ignored? Perhaps the answer lies in that Finlay was the ultimate outsider. He was a Cuban born of a French mother and a Scottish father. A serious speech impediment combined with a mistrust of his French secondary education denied him admission to medical school in Havana. That led him to Jefferson Medical College in Philadelphia. 
As a doctor, he emphasized care for patients and helped set up Cuba's national healthcare system in 1902. Not a self-promoter he cared more for the patients than with impressing the scientific community.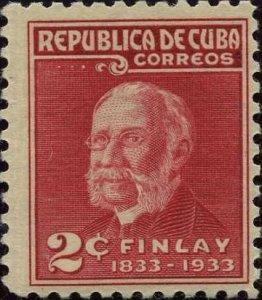 Too often big names backed by powerful empires, whether they be political or today's drug companies, overshadow true scientific pioneers. Even today one must wonder, how many outsiders from the traditional medical establishment hold the key to managing some of the diseases that still ravage our society?
I'm Maria Elena Soliño of the University of Houston where we're interested in the way inventive minds work. 
(Theme music)
---
Maria Elena Soliño is Associate Professor of Spanish Literature and Film in the Department of Hispanic Studies at the University of Houston.
Revista Biomédica. Editorial. 'Prosiguiendo la empresa de Carlos J. Finlay, desde Uruguay y Brasil hasta el Caribe y Norteam'rica, tras 95 a'os de su muerte.' Vol. 21, No. 3, sept-dic, 2010.
Crosby , Molly Caldwell.  The American Plague. Berkley: Berkley Books, 2007.
Del Regato, J.A. "Carlos Juan Finlay (1833-1915)". Journal of Public Health Policy, Vol. 22, No. 1 (2001), pp. 98'104.
Murphy, Jim. An American Plague: The True and Terrifying Story of the Yellow Fever Epidemic of 1793. New York: Clarion Books, 2003.
Pierce, John R. and James V. Writer. Yellow Jack: How Yellow Fever Ravaged America and Walter Reed Discovered Its Deadly Secrets. New York: Wiley, 2005.
Tone, John Lawrence. 'How the Mosquito (Man) Liberated Cuba.' History and Technology. Vol. 18, No. 4 (2002), pp. 277'308.
Images are from the Philip S. Hench Walter Reed Yellow Fever On-line Collection
his episode was first aired on May 22, 2012